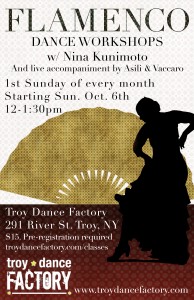 For many years now it has been our dream to have flamenco dance classes in the Capital Region, and now our dream has become a reality! Starting Oct. 6th we will be co-hosting a monthly flamenco dance workshop on the first Sunday of every month. The classes will be taught by Brattleboro, VT based flamenco dancer Nina Kunimoto (with live accompaniment by Asili & Vaccaro), and will be held at the Troy Dance Factory in Troy, NY.
During these introductory flamenco dance workshops we will listen to examples of the popular flamenco rhythms, and learn footwork and choreographic patterns to fit within these rhythms. Participants can expect to take away a basic understanding of how to hear and respond to flamenco music by identifying the pulse. ALL LEVELS WELCOME – please wear comfortable clothing, and if possible, closed-toe shoes with solid heels that can make sound. Come prepared to sweat and revel in the beautiful Andalusian tradition of flamenco! Class fee is $15, and participants MUST pre-register at http://www.troydancefactory.com/classes
Nina Kunimoto has been studying flamenco for eleven years and has performed in a flamenco dance company in Tucson, Arizona and danced solo in Tokyo, Japan. She has studied with Jose Molina in New York; La China and La Truco in Madrid, Spain; Patricia Guerrero Perez, Mari-Carmen Guerrero, Luis de Luis, Ana Calli, and Ester Marin in Granada, Spain; Mara Martinez, Ester Falcon, Mercedes Ruiz, La Marquisita, Miguel Angel Heredia and Manuela Carrasco in Tokyo, Japan. Currently she teaches at the Luminz Studio in Brattleboro, Vermont.
Read More...